I'm back!
Before I say anything else, I just want to explain to email subscribers that you are receiving this email because of your subscription to the MarketplacePartner.com blog. I've moved the blog to a new domain. It's still the same author and the same topic, just a new domain.
So now for the updates and excuses.
It's been over 4 months since my last post and a ton has happened in my personal life in those 4 months.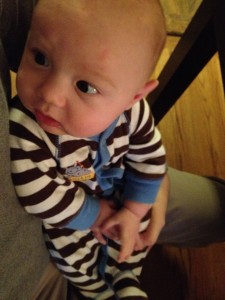 1. My wife gave birth to our first child. I'm happy to introduce Louis Richard Fougerousse. We've been sleep deprived for months but ecstatic about the new addition. This is an E-commerce blog, so that's all I'll say about that, but there are more pictures over at my wife's blog.
2. We've temporarily shut down Marketplace Partner. The reason for this is that we came across some API issues that we weren't able to dedicate enough time to resolve. Our customer's have been more than understanding, but we don't want to sell a product that is sub par (or that will require excessive support), so until we have all the issues resolved, it will remain off the market. This is also the reason for the domain change.
3. I've accepted a new job and moved from North Carolina to New York City. As if having a child wasn't enough change, I've also accepted a new position with an Internet Retailer Top 500 company. It's been an amazing transition. My new employer is ten times the size of my last employer, so naturally operations are dramatically different. It's an incredible learning experience and I have so much to write about. Additionally, in my new role I'm much more involved in marketing and analytics. This isn't something I've blogged much about, but I've been obsessing over these topics lately and reading every book I can get my hands on, so I'll be adding a new category to this blog to cover those topics. I miss North Carolina a lot, but New York has been incredible so far. More on that over at my wife's blog.
So that's the major news. Derek and I are working up some new products for e-commerce professionals so stay tuned for that, but in the meantime, I'll be firing this blog up again and adding a marketing and analytics category. For now you can expect one post every two weeks. Once I get back in the swing of things I hope to get back to my weekly routine, but as long as Louis is willing to play with his dad after work I'll be dedicating the bulk of my evenings to him.
Happy reading!